Question
Assalamu'alaykum wa rahmatullahi wa barakatuhu
Is it true that when there is letter from the isti'laa group that is saakin, preceded by a letter that has a fath-hah on it, the letter, if light, it is not going to be read as light as it would be on is own. So when joining to the isti'laa letter the voweled letter is slightly influenced by the the heaviness of the isti'laa letter. For example in the word 'afadthtum', will the fath-hah on the letter 'faa' be read slightly heavier than it would be on its own. If this is true, is this mentioned as part of any rule in the books of tajweed? I hope I have made some sense!
JazakAllahu khairan
Answer
Wa alaikum assalaam wa rahmatullahi wa barakatuh
It is not true. All letters which always have tarqeeq should have the same sound of tarqeeq throughout the reading and should not be influenced by the letter before or after it.
As a matter of fact, Imam Ibn Al- Jazaree, rahimahu Allah, warned us to be careful not to make tafkheem on tarqeeq letters close to tafkheem letters.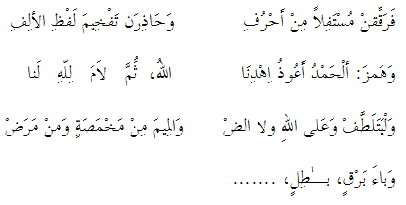 Translated as:
Make tarqeeq of the lettesr which have istifaal
An beware not to make tafkheem of the alif
and hamzah [such as in following words} and letter laam [with word examples] and meem [with word examples] and ba' [with word examples]
You can see from the list, that Imam al Jazaree was referring to the mustafilaa letters which are followed by letters read with tafkheem. For example when he said:

he was referring to aayah 6 of surah al-Faatihah in which

is followed by

as the first pronounced letter of the word

, so again we have to be careful not to make tafkheem of the

and its fathah since it is followed by a letter of tafkheem (the

)
Also when he said

he was referring to making sure
not
to make tafkheem of the

before the next pronounced letter, which is

in aayah 7 of Al-Faatihah.

.
So, it is not correct to read with any tafkheem the letters which never have tafkheem and we should be especially careful of this when the tarqeeq letter is followed by a letter read with tafkheem.
Wa iyyaakum
Wa asalaam alaikum wa rahmatullah