Question
Assalamu 'alaikum wa rahmatullahi wa barakatuh
The letter khaa in the word ikhraaj (and other variations of it) is read with tafkheem. Is this dependant and fixed to just those who implement the 3 levels of tafkheem or common to both 'schools of tafkheem'?
Jazakallahu khairan
Wassalamu 'alaikum wa rahmatullahi wa barakatuh
Answer
Wa alaikum assalaam wa rahmatullahi wa barakatuh,
The seven letters in the group

always have tafkheem, even if they are at the lowest level of tafkheem they still have tafkheem and never have tarqeeq.
In the school of thought with three levels of tafkheem, the

in the word "

" has the lowest level of tafkheem. In the five levels of tafkheem school of thought, it has the fourth level of tafkheem.
The known scholar of tajweed, Sheikh Al-Mutawalli authored lines of poetry outlining the levels of tafkheem and at the end he said [translation],
and if it is in the lowest level
It has tafkheem, cut off from the istifaal (lowering of the tongue)
So it cannot be said it has tarqeeq
Like its opposite, that is the truth.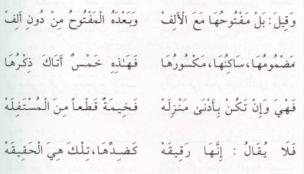 Please also see:
http://www.abouttajweed.com/tafkheem-and-tarqeeq/tafkheem-and-tarqeeq-part-1.html
and:

http://www.abouttajweed.com/kb/entry/235/