Question
Assalamu alaykum
My teacher has told me that I have come in the habit of reading with a nasal sound when there is no ikhfaa/ghunna. I myself hear it especially when saying the letter "lam" and with the vowels. I am pretty good about pronouncing the rest of the letters, but when I make a long/short vowel often a unneeded nasal sound is heard. Is there any method to detect when this happens? What am I doing wrong that results in this?
Answer
Wa alaikum assalaam wa rahmatullahi wa barakatuh
To detect an unwanted ghunnah by yourself, close your nostrils or one of them while reading. The sound will become suppressed when you have a ghunnah. Of course there is an acompanying ghunnah with every

and

regardless of them being voweled or not.
It is not an uncommon problem for some students of the Qur'an to have a ghunnah with the

. The usual cause is using only the tip of the tongue, as is used with the

and not using enough of the anterior sides of the tongue.
The anterior 1/3 of the side of the tongue should be used for the

until the sides end by meeting at the tip. So the sides and the tip are used together in a sort of U shape. This part of the tongue then collides with the gums of the first top central eight teeth.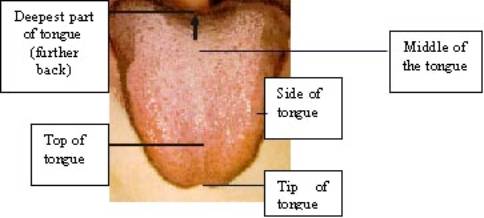 Wa assalaam