Question
Asalam alaikum,
I am 23 and have been taught the quran at the masjid when i was younger, however i am not sure if my stoppings in the quran are correct, when the sentence is finished i am sometimes unsure whether i join the letters or not. If i was to enroll onto a tajweed lesson, is this what they can help me with, as i am able to read the quran i just have a few errors which i feel are being made. Are there any books which you can recommend for me also.
thank you
Answer
Wa alaikum assalaam wa rahmatullahi wa barakatuh,
The studying of the stops and starts,
and

, is an important aspect of tajweed. Indeed we can portray a meaning different than what Allah wanted if we stop incorrectly or start incorrectly. It is very good that you desire this knowledge and would like to gain it.
A qualified teacher of tajweed should be able to teach you this.
If you have the King Fahd Printing Complex copy of the Qur'an, you can follow the allowed stop marks there. These stop marks are summarized and explained in the following chart: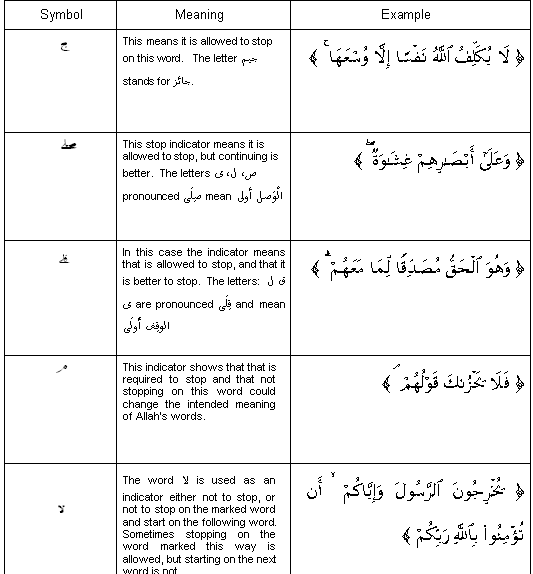 Also you can read the lessons on stopping and starting at:
http://www.abouttajweed.com/al-waqf-the-stop-/index.php
.
You are welcome