Question
Assalamo alaikum.
Who are the main scholars or Imams of tajweed currently in the world today?
Jazak allah khair
Wasalamo alaikum
Answer

Wa alaikum assalaam wa rahmatullahi wa barakatuh,
This is a very good question indeed, may Allah reward you.
The top scholars of recitation and tajweed alive today are the eminences Ash-Shuyookh: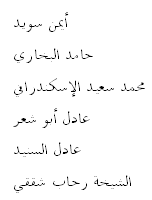 Ayman Swayd -Jeddah, Saudi Arabia
Haamad Al-Bukhari-Medinah, Saudi Arabia
Muhammed Sa'eed Al-Iskandariyyah-Alexandria Egypt
'Aadel Abu Shi'r- Damascus, Syria
'Aadel As-Sunayd- Riyadh Saudi Arabia
Rehab Shaqaqi (Sheikhah)-Jeddah
May Allah preserve them all, grant them good health, increase them in knowledge, and make them a source of good for the Muslim nation.