---
I wanted to know when joining bismillah with surah takathur, will you join the meem on the laam or read the alif with its harakah
Question
assalamualaykum
I wanted to know when joining bismillah with surah takathur, will you join the meem on the laam or read the alif with its harakah e.g `raheeme alhaa kumutakathur` or `raheemilhaakumtakathur`
Answer
Wa alaikum assalaam wa rahmatullahi wa barakaatuh
Since the first letter of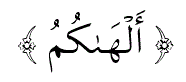 is a hamzah qaT3, it must be read with its harakah (vowel). So when joining the basmalah with the beginning of at-takaathur, one reads the last letter of the last word of the basmalah with a kasrah on the meem:

, then reads the hamzah qata' of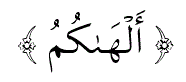 with a fat-hah. This would be similar to the first example in the question.
Wa assalaam
---